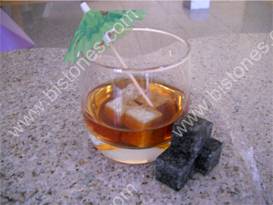 View more stone pictures
Whiskey Stones are ice cube substitutes

Whiskey ice stone advantages:
What is Whiskey Stone?
1. Whisky ice, whisky rocks, whiskey stone ice, granite stone ice, ice stone, whiskey ice stone, granite ice stone(Gray, Red, Yellow, Black, White )
2.

Surface finish:

With all sides tumbled or as customer's requirement.
3.

Specification:

Available in different sizes as per customer's request.
Common size is 2*2*2cm
4. Packing: as required by customer or we could supply some packings for you to choose.
European Standard Certification:
Top quality granite from our own quarry with no pollution.
We have passed the European Standard Certification: EN71 Part 3, Foodgrade, Radiation, REACH SVHC.
How to use them:
Serve your drinks on actual rocks with these beautiful granite drink chillers. Simply chill the stones. Add one or two to your drink, stand for five minutes and enjoy. They won't dilute or close down the complex favors like a ice cubes does. Set of six comes in a convenient tray for easy freezing and serving.
Contact us:
For free samples of granite ice cubes for your approval.
----If you are interested in what you see or have any questions, please feel free to contact us. we will bring you our best offer within 24 hours. Thank you
Whiskey Stones Images
"A quick primer because the other reviewer seems confused. These are NOT ice cubes. They have one very specific purpose, putting a SLIGHT chill on straight whiskey to allow some of the flavors to open up and take some of the edge off the Bourbon/Scotch. Hence there is no reason for a child to be using them. Additionally as for hitting them your teeth, again these not ice cubes and if you are chugging your whiskey, well good on yah mate but these are not for you.

My girlfriend bought me these because I like to enjoy a Bourbon after work. After putting 3 stones in a glass and waiting, the stones put a slight chill on the bourbon. They didn't cool the whiskey down so much as to subdue the flavor. It just chilled it some to take the edge off and made a very pleasant drink, not watered down. I recommend them if you are someone who enjoys a good glass whiskey straight. Very happy with them! "
Amazon.com Whiskey Lover "Whiskey" Review
"They are perfect for what they claim...taking the edge off the whiskey. I use them with single malt scotch with a splash and it takes it to a new level of enjoyment. If you're a poser or a rookie you won't appreciate them. For those that are worried about their teeth, go back to your wine coolers. A good whiskey is to be sipped, often, and treated with respect."
Amazon.com A Kid's Review